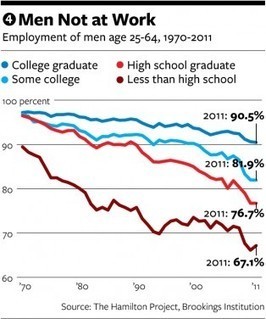 The U.S. economy once worked like a finely meshed machine. Not anymore. The U.S. economy is still a powerful engine, but workers aren't seeing the benefits, less-educated men are struggling, and the rich have disconnected from everyone else.
Seth Dixon, Ph.D.'s insight:
The problems with the economy are not universally spread throughout society.  Certain segments are impacted more than others by the current struggles, especially when with look at axes of identity, such as class, gender and ethnicity.  While planning on a blue-collar job in the 1950s could have been a solid career plan for a young man in the United States, not so in the 21st century.
See on nationaljournal.com