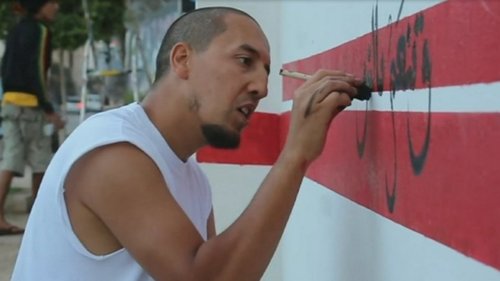 Following the uprising that toppled the government in 2011, he has become a well known graffiti artist hoping to revive and modernise the ancient art of Arabic calligraphy in Tunisia. He calls his style "calligraffiti".
Seth Dixon's insight:
This short BBC video demonstrated how cultures are dynamic and are built on past traditions to confront modern circumstances.  Cultures are performed both as resistance to and wider social influences and as a mechanism to adapt to those forces.  The street art of Karim Jabbari is an excellent example of the cultural patterns and processes by blending ancient North African calligraphy with modern Western street art to create an entirely new form of cultural expression.  This cultural production is still deeply rooted in place, but in not locked away in the past.  After the Arab Spring, Tunisians were searching for new political identities and the street festivals sponsored in part by this artist are forging new political, cultural and urban expressions that honor the past while forging a new future.  Watch the video below to see him in action, shaping a cultural landscape and strengthening a community.    
Tags: Tunisia, globalization, popular culture, unit 3 culture.