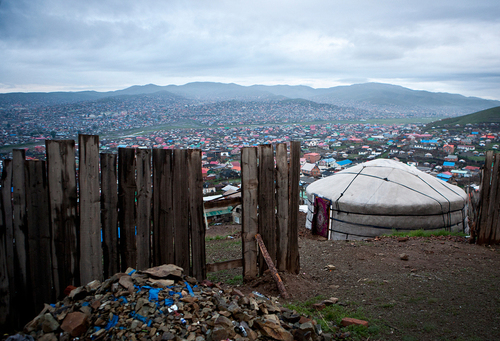 Through his Vanishing Cultures Project photographer Taylor Weidman documents threatened ways of life.  About his work in Mongolia, he states: "Mongolian pastoral herders make up one of the world's largest remaining nomadic cultures. For millennia they have lived on the steppes, grazing their livestock on the lush grasslands. But today, their traditional way of life is at risk on multiple fronts. Alongside a rapidly changing economic landscape, climate change and desertification are also threatening nomadic life, killing both herds and grazing land."
In times of ecological hardships and global economic restructuring, many children of nomadic herders are seeking employment out of the rural areas and in the urban environment.  The cultural change that this represents is for Mongolia enormous and is captured wonderfully in this photo gallery.  Pictured above are the ger (yurt) camps that ring the capital city Ulaanbaatar.  Ulaanbaatar houses a permanent population of displaced nomads. During the winter, Ulaanbaatar is the second most air-polluted capital in the world due largely to coal burning.
Tags: Mongolia, images, indigenous, culture, globalization.  

See on www.boston.com