See on Scoop.it – Geography Education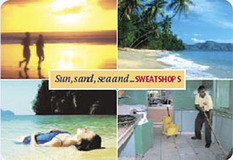 Tourism Concern fights exploitation in the global tourism industry. We are an independent, non-industry based, UK charity.
This is another way to conceptualize the geographic impacts of tourism.  Wealthy tourists from developed countries spend their money in less developed countries, creating a power imbalance within the local community between locals and tourists.  Local absolutely need the tourists dollars but these funds come and a social and environmental cost.  Tourists use far more local resources per capita than the local residents, one reason why some refer to tourism as an 'irritant industry.'  What other forms of social friction can arise from tourism?   For a more detailed response to this situation see this news article in the Guardian.
See on www.tourismconcern.org.uk