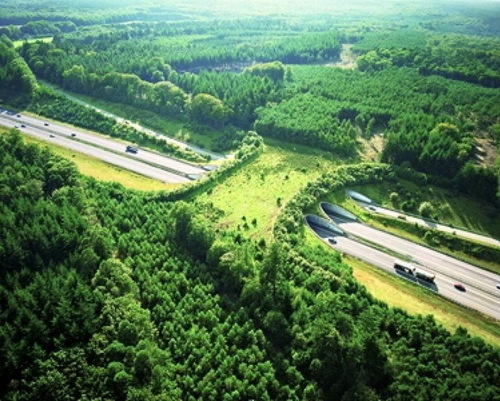 Our modern society depends on greater connectivity between places.  Regionalized economies, politics and transportation networks are increasingly integrated with far-flung places now more than ever before.  Our biosphere and natural environments are exceptions to this pattern.  Wilderness areas are 'islands' in an ocean of human controlled environments.   We create transportation linkages that unite people economies and cities, but separate herds from there extended habitat.
We've all seen road kill on major highways.  Species like deer, elk, and grizzly bears and other large-bodied animals need a wide range for numerous ecological reasons.  These bridges are an attempt to ameliorate some of the problems that our roads pose for the non-human species that still call Earth home.  From a purely economic standpoint, many argue that these bridges save society money given the accidents and property damage that can be avoided.
Tags: biogeography, transportation, environment, land use, sustainability, environment adapt.
See on www.theworldgeography.com
UPDATE: and here is a painful/hilarious video of someone who clearly doesn't understand these principles.