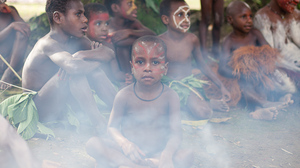 Papua New Guinea, once home to cannibals, still has an exotic aura. The local tourist economy caters to those notions, and visitors may see a hybrid of the traditional and the modern.
This story is an intriguing blend–we see traditional cultures engaging in the global economy. They have created two villages: a traditional one designed for tourism filled with emblems of their folk cultures, and another one where people work, live eat and play with various markers of outside cultural and technological influence.
"Tourists are taking pictures. They don't want to take pictures of those who are in Western clothes.  People who are in Western clothes are not allowed to get close to people who are dressed up in the local dressings."
Questions to Ponder: Which village do you see as the more "authentic" one? How can culture also be a commodity?
Tags: folk culture, tourism, indigenous, culture, economic, rural, historical, unit 3 culture, Oceania.
See on www.npr.org