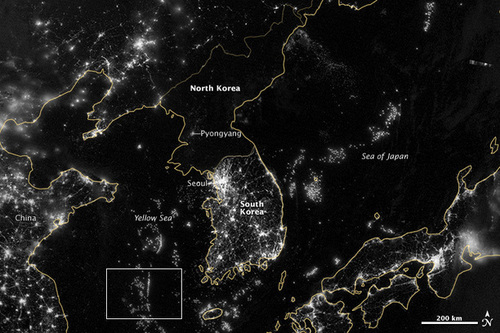 While city lights at night serve as a good proxy for population density, North Korea provides a dark exception.
Seth Dixon, Ph.D.'s insight:
This image is appears to be a regional inset of the classic Earth at Night composite image however this nighttime remote sensing image was taken from Sept. 2012.  The Earth at Night image is typically used in classrooms to discuss what this actually means for human geography (Population density?  Development? Consumption? Where? How come?).  However, this particular portion of the global image focused on the Korean Peninsula highlights two other specific issues:
the impact of a totalitarian state can actually be seen from space as South Korea has a per captia income level 17 times higher than that of North Korea. 

the Exclusive Economic Zones (EEZs) can be seen in the Yellow Sea as fishing vessels form a line approximately 200 nautical miles off the coast of South Korea.     
Tags:  economic, political, resources, water, sovereignty, coastal, territoriality, states, unit 4 political, remote sensing.
See on earthobservatory.nasa.gov