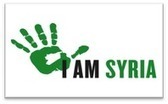 -Introduction (1 minute) -Sign up for a free Prezi account and give your students background with the Syria the Basics PREZI . (5 minutes) – Follow up with another PREZI about Youth…
Seth Dixon, Ph.D.'s insight:
Have you wanted to teach about current events in Syria but weren't sure where to start? This resource suggested by the Arizona Geographic Alliance has lesson plans, materials and resources for all grades.
See on www.iamsyria.org