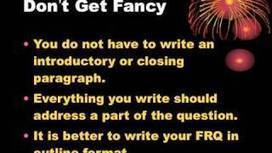 "AP Human Geography Free Response Questions should be approached in a very deliberate and specific way. APHG teacher Tom Landon explains his approach to teaching students how to do it."
Seth Dixon, Ph.D.'s insight:
For those preparing students for the AP Human Geography test, this video gives great advice to help you instruct students on how to approach the Free Response Questions (FRQs). Understanding the content always comes first, but some bright students who I know understand the content fail to read the instructions or to answer every portion of the questions. This will help those APHG students.
Tags: APHG, training, geography education.

See on www.youtube.com