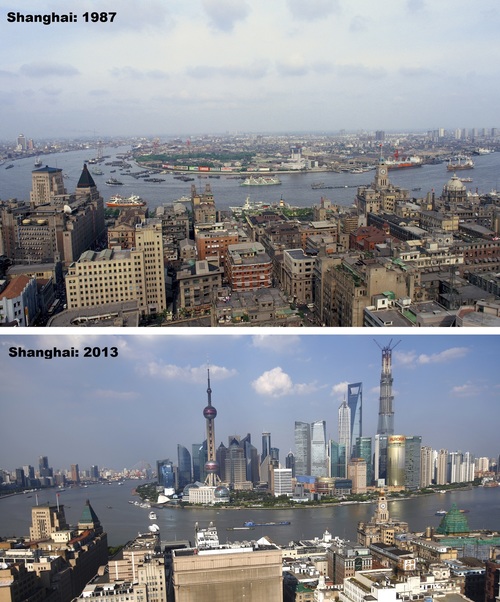 Reuters photographer Carlos Barria recently spent time in Shanghai, China, the fastest-growing city in the world. A week ago, he took this amazing shot, recreating the same framing and perspective as a photograph taken in 1987, showing what a difference 26 years can make. The setting is Shanghai's financial district of Pudong, dominated by the Oriental Pearl Tower at left, and the new 125-story Shanghai Tower, China's tallest building and the world's second tallest skyscraper, at 632 meters (2,073 ft) high, scheduled to finish by the end of 2014. Shanghai, the largest city by population in the world, has been growing at a rate of about 10 percent a year the past 20 years, and now is home to 23.5 million people — nearly double what it was back in 1987. This entry is focused on this single photo pairing, with several ways to compare the two.
Seth Dixon's insight:
In the Atlantic, there was an article that highlighted some incredible comparisons of Shanghai's Pudong district that show the impact globalization.  This image is my rendering of the two images as a composite image.  Globalization has hit…hard and fast.  Today, we shouldn't think of Shanghai as a major city in China, but as as one of the major cities in the world..
See on geographyeducationdotorg.files.wordpress.com
Shanghai wasn't the only city to grow tremendously during a globalization boom…Here is Dubai.