See on Scoop.it – Geography Education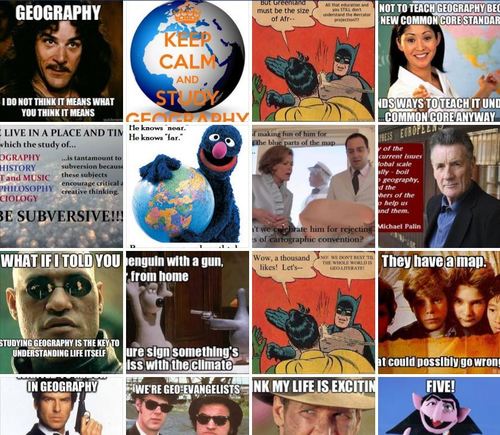 "Geography. It lets you study the world. No, really, THE WORLD. Think about that. What other subject deals with rocks? Moving continents? AND climate? Diffusion of plants and animals? Water quality? Now, what if you add some human systems–do the other sciences let you relate the earth to economic or political systems? And culture–food, religion, music, housing, or language? How about urban systems and settlement forms? Past, present, and future, anywhere in the world? And how many subject areas let you look at something from a scientific, social-scientific, humanistic, AND artistic perspective? Yeah, I said artistic–I like to illustrate my findings with a nice map.
Tell me all about global studies or environmental science if you'd like–they're alright too. But NOTHING lets you see the world like geography does."
Seth Dixon's insight:
This 'sermon' from the Church of Geography is outstanding (the 'Church' is a geo-evangelizing group on Facebook and Twitter that is the home to the delightful memes pictured above). Many organizations are trying to re-brand geography to gain greater public support at the same time that other interdisciplinary initiatives with geographic content are gaining traction: global studies, environmental sustainability, centers for spatial analysis, etc. We don't need a name change as much as we need people to capture the vision of geography's centrality and holistic capacity.
Tags: geo-inspiration, geography education.
See on www.facebook.com