Via Scoop.it – Geography Education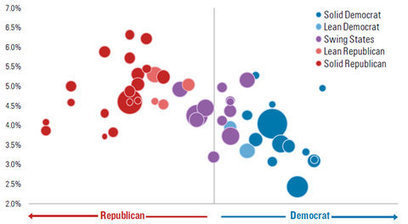 Rising gas prices make people unhappy, but the pain is felt most acutely in states where it is unlikely to make an electoral difference.
There are numerous geographic themes that make this article a worthwhile read.  The evidence suggests that states the vote more solidly Republican are being hit hardest at the pump.  Gasoline expenditures as a share of personal income are higher in pro-Republican states than pro-Democrat states.  Understanding the demographic base of each party as well as population density explains much of this issue: states that are very rural drive greater distances with less public transit option, spending more per capita on gasoline.  Also, since the most affluent urban centers are Democrat-leaning, they spend a less sizeable portion of their income on gasoline.  This article would be a nice resource for a classroom/small group discussion.