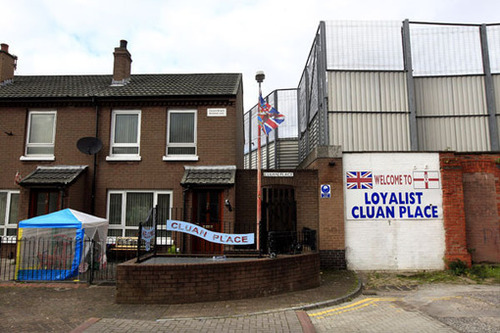 "Why would they want to pull down these walls?" asks William Boyd mildly as he offers me a cup of tea in his home at Cluan Place, a predominantly Loyalist area of east Belfast.
These walls, orginally installed in the late 60s to protect Belfast residents during "the Troubles."  Today, some argue that these walls are now barriers to the peace process as they continue defacto segregation.  Walls, as barriers to diffusion, stifle communication, cooperation and interaction.  Still, these walls are symbols of communal identity and icons in the cultural landscape.  For more academic work on this, see Peter Shirlow's Belfast: Segregation, Violence and the City.
Questions to Consider: How would a wall through an already culturally and politically divided city impact both sides of the wall?  Today, are the walls beneficial to peace in Northern Ireland?
Tags: Ireland, states, borders, political.
See on blogs.reuters.com