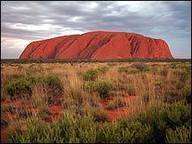 Aboriginal leaders threaten to ban tourists from a top Australian landmark in protest at "racist" government policies.
Seth Dixon, Ph.D.'s insight:
This is an old article, but a fascinating topic that cuts across many geographic issues.  Uluru, the landform that that European explorers named Ayers Rock, was the key place that is at the center of a struggle between indigenous people and the government.  Many feel that the government's course of action in the mid 2000's was paternalistic and racist.  They banned alcohol and pornography in over 70 indigenous communities in an attempt to lower the rates of child sex abuse.  Sex Abuse is high (and often hidden)  in aboriginal communities where a child is 7 times more likely to be abused than in the rest of the Australian population.

Questions to Ponder: Would the government impose such measures on other populations within Australia?  When crimes have a racial component, does a government have the right to limit a particular groups' actions?  Why or why not?

Tags: Australia, indigenous, ethnicity, race, Oceania.
See on news.bbc.co.uk
https://www.google.com/maps/@-25.3503296,131.0482547,3a,75y,337.56h,93.04t/data=!3m7!1e1!3m5!1sXmSB_cTELZkr51vUPXfSTg!2e0!6s%2F%2Fgeo1.ggpht.com%2Fcbk%3Fpanoid%3DXmSB_cTELZkr51vUPXfSTg%26output%3Dthumbnail%26cb_client%3Dmaps_sv.tactile.gps%26thumb%3D2%26w%3D203%26h%3D100%26yaw%3D163.5%26pitch%3D0%26thumbfov%3D100!7i13312!8i6656