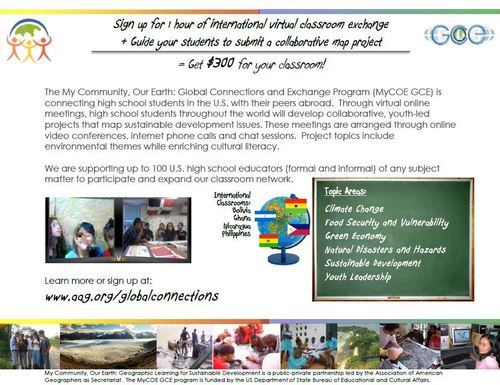 Seth Dixon, Ph.D.'s insight:
Are you a high school teacher looking for some funds for your classroom? The My Community, Our Earth: Global Connections and Exchange Program (PDF) is connecting high school students in the U.S. with their peers abroad (in Bolivia, Ghana, Nicaragua and the Philippines) through virtual online meetings. The Association of American Geographers is especially eager to have AP Human Geography teachers participate in this program. These meetings are arranged through online video conferences, online phone calls and chat sessions using Skype. The purpose of these meetings is to stimulate thinking and collaboration between high school students across international borders around sustainable development themes such as climate change, green economy, food security and hazards and vulnerability, while enriching cultural literacy. We are looking for formal and informal educators in the U.S., at the high school level, who would like to participate with us.
For every time that you complete one hour of exchange and submit one MyCOE exercise to our online system, you will receive $300 for your classroom (personal check or Amazon gift card).
Ready to Participate? Please send e-mails to mycoe@aag.org.
Tags: AAG, teacher training, APHG.
See on www.aag.org