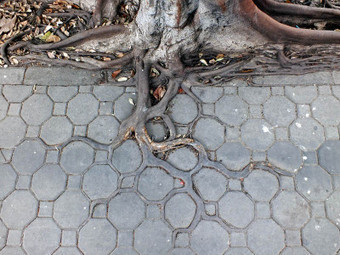 In this fantastic sighting by photographer Horst Kiechle, we see the roots of a tree in Bangkok, Thailand (Lat Yao, Chatuchak to be exact) growing into the grooves and cracks of an interlocking sidewalk. Even the colour of the roots gradually fade into the pavement.
Seth Dixon, Ph.D.'s insight:
This startling image is a powerful testament to the adaptive nature of many species to the urban environment. Some species will adapt in beautiful ways such as this tree, while other will adapt is ways that go against our plan for that urban space (think rats, pigeons and cockroaches). We adapt to our environment and the environment adapts to us as well; but that relationship is not always peaceful and symbiotic. We can also destroy ecosystems that are fragile and not as resilient to change as this tree is. See this same tree's root network one year later.
Tags: urban ecology, environment adapt, sustainability, biogeography.
See on twistedsifter.com