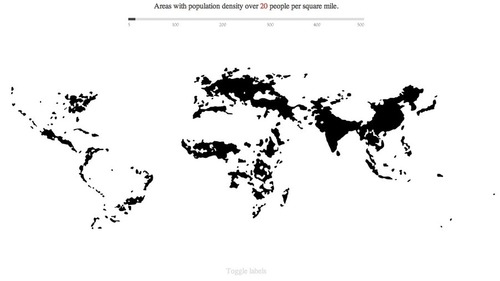 "[This map's] an unabashedly generalized interactive population density map inspired/stolen from a map by William Bunge entitled Islands of Mankind that I came across on John Krygier's blog. I thought Bunge's map was a novel way to look at population density, and I've tried to stay close to the spirit of the original."
Seth Dixon's insight:
At the NCGE this week, I was pleased to hear a presentation from Alexander Murphy, a giant in the academic world.  He shared this interactive map from Derek Watkins, which is the best map I've ever seen to teach global population distribution patterns.  It is removed all extraneous information and allows the user to focus on the areas of heavy settlement and limited population.  The map can show regions that are settled at densities from 15 to 500 people per square mile; the changes at various densities are visually staggering and powerfully telling.  I've shared some other maps that would work very nicely together with this in a lesson on global population settlement patterns.  
Tags: density, population,  visualization, mapping.
See on www.dwtkns.com