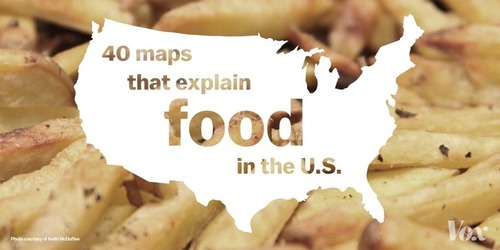 "The future of the nations will depend on the manner of how they feed themselves, wrote the French epicurean Jean Anthelme Brillat-Savarin in 1826. Almost 200 years later, how nations feed themselves has gotten a lot more complicated. That's particularly true in the US, where food insecurity coexists with an obesity crisis, where fast food is everywhere and farmer's markets are spreading, where foodies have never had more power and McDonald's has never had more locations, and where the possibility of a barbecue-based civil war is always near. So here are 40 maps, charts, and graphs that show where our food comes from and how we eat it, with some drinking thrown in for good measure."
Seth Dixon's insight:
Occasionally these lists that say something like "40 maps that…" end up being an odd assortment of trivia that is interesting but not very instructive. Not so with this list that has carefully curated these maps and graphs in a sequential order that will enrich students' understanding of food production and consumption in the United States.
Tags: agriculture, food production, food distribution, locavore, agribusiness, USA.
See on www.vox.com