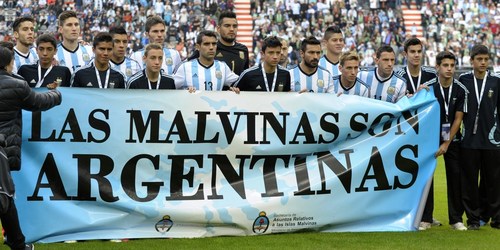 Argentina and England are unlikely to meet at the World Cup finals, however their rivalry was reignited at the weekend when the Argentine national side posed behind a banner claiming the Falkland Islands belong to the South American country. Ahead of their warm-up match with Slovenia in Buenos Aires, the team displayed the message in support of the country's claims over the sovereignty of the islands in the South Atlantic, which are a British Overseas Territory.
Seth Dixon's insight:
The World Cup can make things interesting when nationalistic fervor becomes politicized and moves to issues off the pitch.  Are they the Falklands or Las Malvinas?  It's not just a simple linguistic translation but also a statement of territoriality and geopolitical recognition.  Like Gibraltar, the Falklands are British Oversees Territories, ones that Margaret Thatcher was willing to fight Agrentina to maintain;  Argentina still claims Las Malvinas as their territory.  For a great teaching resource on this issue, see the second slideshow in this series of  AP Human Geography talks that was given at NCGE 2013 (sign up to attend NCGE 2014 here).  
Tags: Argentina, sport, borders, geopolitics, political, territoriality, sovereignty.
See on www.huffingtonpost.co.uk