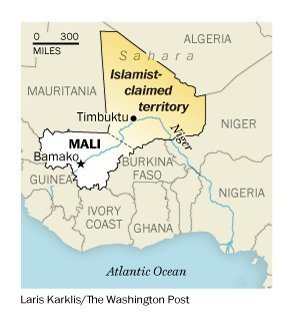 France is ready to stop Islamist militants who control northern Mali, the French president says, following a plea for help by his Malian counterpart.
Seth Dixon, Ph.D.'s insight:
In April 2012, Islamist rebels seized power in Northern Mali and have declared independence, proclaiming this region The Islamic State of Azawad.  Recently they have begun to amass armies on the southern limits of their territory and presumably are seeking to topple all of Mali.  The former colonizer, France is being called upon to assist as is the United Nations.  This area is part of a region known as the Sahel, the transition from a dry North Africa to tropical Sub-Saharan Africa, from a Muslim/Arab north to a Christian/Animist/Black region of Africa.  The human and physical geographic divisions in this region plays a major role in this conflict.  
See on www.bbc.co.uk